We know that you often entrust us with sensitive information, and that it must always stay secure. That is why we are preparing an important change which will prevent a possible external attack. What is it, and how will it affect your work in Teamio?
From the 1st of March 2017, Teamio will use only the HTTPS protocol when communicating with other systems.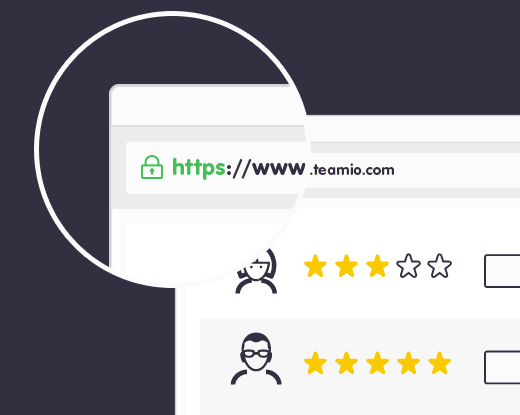 From 01/03/2017, we plan to use the HTTPS protocol exclusively.
Communication using HTTP will no longer be possible.
What is the HTTPS protocol?
It is the encryption of data when it is sent, and its decryption upon receipt. You can often come across communication via the HTTPS protocol – for example in your bank's electronic banking. You will see that the website is using more secure, encrypted information by the https:// instead of the normal http:// in front of the address in your browser. Well, we think it is time we also started encrypting the information which you input
How to prepare for the change:
So that we can be sure that everything will work smoothly and quickly in February, the way you like it, we would like to ask you or your IT department to perform two steps:
You need to check the applications which you use to import positions or export candidates. Make sure that their URL communication is set to HTTPS. (Here are the addresses of the public APIs: https://g2.lmc.cz/import and https://g2.lmc.cz/export).
You also need to check that the technology on which you operate your import/export application supports the Diffe-Hellman protocol with a 2048 bit key. A longer key will help us make the HTTPS communication one step more secure.
If your systems fulfil both conditions, everything is OK and you don't need to change anything. Everything will function the way it did before, but more securely.
If you discover that your applications do not fulfil these conditions for secure communication, we advise you to change it as quickly as possible. Teamio already fully supports HTTPS and DH2048, so you have nothing to wait for. What's more, your applications will then become more secure against possible external attacks.
Who to contact?
Please pass the instructions on to your IT department or system administrator. They will know how to proceed.
In the event of any queries or problems, you can turn to your dealer, or directly to our security manager Tomáš Luňák, who is managing the transition to the HTTPS protocol and will be happy to answer any questions you have:
Tomáš Luňák – Security Manager
tomas.lunak@lmc.eu
+420 774 111 193